Natural Resources Management:
The technical assistance is focused on initiatives ensuring the sustainable management and preservation of natural resources, including as a source of income, and a means to safeguard and develop jobs, rural livelihoods and environmental goods and services.
Strategy
The conservation of ecosystems and the preservation of biodiversity are promoted trough a wide-ranging approach aimed at involving rural populations in the management of natural resources.
Management schemes based on local knowledge are conceived with the beneficiaries and project team.
Sustainable micro-projects are also carried out to promote the development of villages in the buffer zone of parks and protected areas. The purpose is to provide economic alternatives to prevent the unsound exploitation of natural resources.
Technical assistance is provided to institutions or government services managing parks and protected areas.

Guiding principles for protected areas technical input:
- Build capacity and strengthen the institutions that have the responsibility for protected areas management;
- Concentrate on making resource protection/tourism one of the ways to help project partners help themselves (Capacity-building);
- Encourage and provide planners of protected areas with the skills to reach out to stakeholders and involve them in park planning, management, and resource protection processes
Services provided:
- Preparation and implementation of natural management schemes at local level.

- Carry out scientific assessments of biodiversity resources in protected areas and
establish a sustainable monitoring program for biophysical resources;

- Organisation and planning of protected areas and parks: management plans and work plans, conservation strategies, ecotourism development, ecological planning based on GIS analysis;

- Development planning in the buffer zone: carry out participatory assessments of target communities to provide an analysis of the situation, identify priorities for action, and develop a strategy to reduce poverty and protect natural resources. Identification of partners (community groups and nongovernment organizations) for the implementation of the action plan.

- Provide skills training to nature reserve guides, agriculture and community foresters, and other stakeholders.

- Deliver technical assistance to government services to prepare policies and operational planning to empower local actors in the preparation and management of environment and rural development activities in the buffer zone.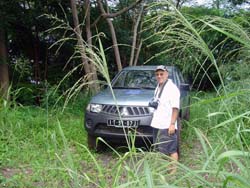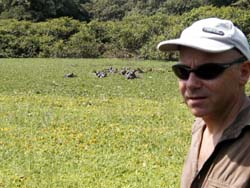 Hyppos survey Guinea Bissau.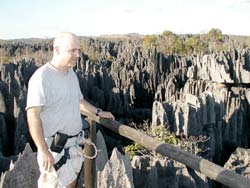 Tsingy view - Madagascar.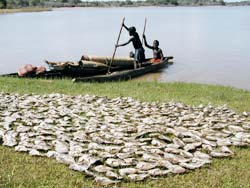 Traditional fishing as source of income.