WORK RECORD:
Sokoto Environmental Protection Program - Sokoto - Sokoto State - Nigeria (VI EDF)
Country: Nigeria
Overall Objectifs:
Desertification control trough tree plantations
Improve agricultural production trough irrigation schemes
Responsibilities:
Leading, training, supervision and transfer of skills to local staff for the implementation of afforestation activities.
Conceive a participatory strategy of sustainable community forestry; support for village communities to lay down nurseries and advise plantation.
Advise the Director of the forestry service on all aspects related to policies and strategies aimed at fostering people's participation in forestry.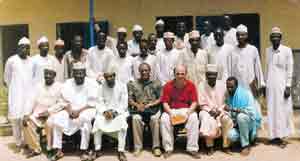 Project Team.