WORK RECORD:
Integrated Rural Development Program of Bemaraha Region -Antsalova - Madagascar
(VIII EDF)
Country: Madagascar

Overall objectives:
Improve livelihoods of population of Bemarha Region
Management of National Park "Tsingy de Bemaraha" (UNESCO - Biosphere Reserve): conservation and ecotourism development
Management of natural resources of Bemaraha Region: natural forests, lakes and swamps (protected under the Ramsar convention)


Main duties:
Assist the National Co-ordinator (Agent of ANGAP - National Association of Protected Areas) to plan, organise and carry out the program.
Support the National Coordinator in reporting and responding to the Project Steering Committee.
Leading the project team and strengthen the capabilities and skills of local staff in all aspects related to their participation in forest management and the development of micro-projects to find out viable and sustainable economic alternatives in rural areas. The technical contribution was to be directly involved with the organisation of village committees for the purpose of teaching them to plan, implement and maintain these micro-projects and forest management schemes.
Provide expertise to Tsingy Bemaraha National Park (UNESCO World Heritage). The Park's Director was assisted in the preparation of management plans for the Park. Support was also focussed on development strategies for villages in the buffer zone. Put in place environmental monitoring system for Park management.
Provide technical input for the implementation of micro-irrigation schemes and in the organisation of veterinary interventions (cattle).
Monitor and manage the performance of the Project Accountant; ensure that the implementation of the program complies with EDF procedures: oversee financial accounting and reporting exercise.

Sakalava young man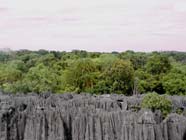 Tsingy and forest.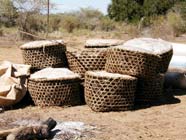 Smoked fish.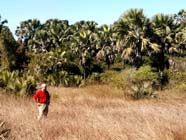 Bamaraha savannah.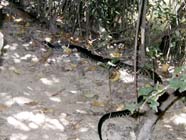 Beautiful snake.