WORK RECORD:
Integrated Rural Development of Oubritenga Province - Ziniaré - Burkina Faso
Country: Burkina Faso
Overall Objectif
Put in place infrastructures for agricultural production
Meet the basic needs of rural population of Oubritenga Provinc
Strengthening rural organisations and create jobs in rural areas to curb rural migration to Ouagadougou


Main duties:
Leading, training and coordination of local staff for carrying out socio-economic micro-projects at village level.
Support villages in their organisation of associations and cooperatives responsible for implementing micro-economic projects, such as public mills, store houses, orchards and to promote soil conservation activities such as small dams and tree plantation (agroforestry).
Advise the Director of local forestry service to plan the management of protected forests.
Collaboration with FAO (Forestry and Food Security Project) and GTZ (PATECORE Project) for assisting villages to achieve their targets for micro-projects (soil conservation and organization of forestry cooperatives).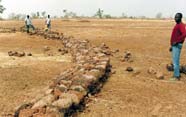 Plateau Mossi: soil conservation.
Diguettes en pierres.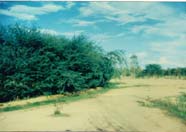 Windbreak of Acacia nilotica.