WORK RECORD:
Community Development and Food Security Programs in the North of Department of Potosi -Llallagua - and O'Connor Province - Tarija - Bolivia - Duty stations: Llallagua and Tarija (EU funded)
Country: Bolivia

Overall objectives:
Improve production of traditional farming systems
Strenghten rural infrastructures for agriculture


Main duties:
Leading, assistance and training of local staff for the implementation of micro-projects at village level; such as the improvement of maize and potatoes crops.
Capacity building: assist 6 local administrations (Concejos Municipales) in the preparation of Local Development Plans. Support local technical services to enhance the effectiveness of infrastructures in rural areas.
Put in place the infrastructure and a grant scheme for small-scale agriculture: micro-irrigation schemes, store houses, public mills, and organic seed beds for potatoes production in the Bolivia highlands.
Support and contribute to the organisation of two farmers' labour Unions in two different Departments (Norte Potosi and Tarija): carry out training sessions for Unions' members.
Collaboration with Fundacion PROINPA (Promotion and Research on Products of Andes) - Headquarters Cochabamba
FAO: Proyecto Post-cosecha - Headquarters Tarija

Lama herd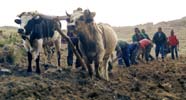 Traditional farming on highlands (Potatoes sowing).

Potatoes production on highlands
(Norte Potosì).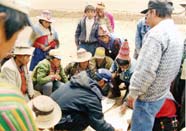 Planning village development.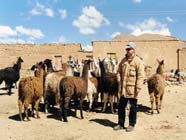 Lama herd.